Promovida pela Atlântida FM, a festa contou com vários convidados.


Fernanda do 'Lado B' mandando ver um
'I Heard it Through the Grapevine'
Charles da 'Índice' encarnando Oasis em
'Wonderwall'
Guto Seara e Faraco da 'Immigrant' em
'Dust in the Wind'
Leandro Marcucci do 'Anno Domini' em
'Every Breath you Take'
Faraco da 'Immigrant' num solo de
'Wish you Were Here'
Michael do 'Mr. Cascalho' tomando a
batera numa jam
Grego e Guto da 'Immigrant' Pink
Floydiano num 'The Wall'
Armandinho do 'Doctor Blues' solando
um ' I Shot the Sheriff'
André e Fábio dos'Chefes'mandando
ver num 'Lay Down Sally'
Milton Mantau e seu sax numa versão
de 'Stand by Me'
Sérgio Negrão do 'Banho de Lua' de
cabeça num 'Start me Up'
Galera reunida num free de 'Back in the
USSR' e ' I Saw Her Standing There'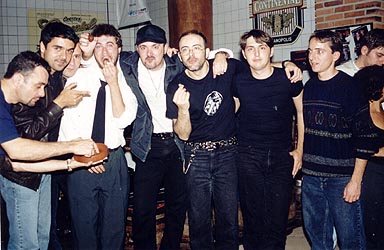 É isso aí. valeu, galera.